Portable Mini Hand Held Portable Ultrasonic Spot Welder Handheld Manual Ultrasonic Plastic Welding Machine
Price in reward points: 1000
Product performance and characteristics:
N95 nonwoven fabric cover earband single-head spot welding machine, on / off pulse timer, precise power adjustment to ensure high welding, equipment can work intermittently, can also run with no load, to meet different welding needs.Flat / n95 latest head design, small and beautiful, good sight line of operation, new ultrasonic generator electric box design, intelligent protection, stable performance, reliable equipment, long service life
Application:
spot welding,plastic welding,non-woven fabrics welding and so on.
1):Using self-excited circuit, at work, to track the changes in the parameters of the transducer, the maximum performance of the transducer and tool head;
2):Imported high-power tube, high-current-resistant shock, an increase of the stability of the work of the ultrasonic generator.
3):Using digital frequency display, frequency can be fine-tuned, you can accurately observe the operating frequency of the generator.
4):Easy to operate, can be applied to different specifications of the transducer and die.
Welding a wide range of materials
Product specifications and parameters:

Model number:QXSU-15
Frequency:15K
Power:2600W
Operating voltage:

AC220V/50Hz
Frequency Range:18.5 - 21.5 Khz
Model number:
QXSU-20
Power:2000W
operating voltage:

AC220V/50Hz


Frequency Range:23

.5 - 26.5 Khz
Model number:
QXSU-28
Power:300W
operating voltage:

AC220V/50Hz


Frequency Range:26

.5 - 29.5 Khz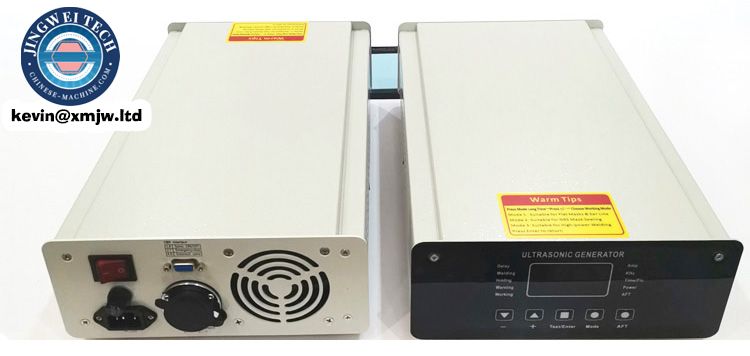 Generator C

haracteristic:


Intelligent fan control: The fan starts when the ultrasonic is working, and stops when it is not working for 10seconds to avoid inhaling too much dust. Power limitation: In order to be able to continue working around 800W, the actual power protection threshold of the generator is 1000W, Working mode: automatic mode: long wave mode, suitable for cleaning/ cutting/ non-woven welding, etc.
Automatic frequency tracking: The system automatically tracks the resonance frequency of the welding head. Compensate for detuning caused by heat and other reasons.
Digital frequency control: The operating frequency is digitally controlled by the microcontroller.
Digital amplitude setting: This feature allows users to set precise amplitudes according to application requirements, which provides a larger range and repeatability of settings than analog systems.
Amplitude can be adjusted in a large range: 20%~100% continuously adjustable, which is different from the disadvantage that traditional generators are difficult to work with low amplitude.
High-speed microcontroller: 32-bit ARM processor control.
1 ms control and sampling interval: 1000 times per second sampling and control of the welding process.
LED and key operation interface are stable and reliable.
Slant start: Ultrasonic energy supply and welding head start at the most suitable ascent speed to reduce the electromechanical pressure of the system.
Diagnosis at startup: During the startup process, the main components of the system are tested. All kinds of protection are complete: including over power consumption of the whole machine, inverter tube overcurrent, inverter tube drive undervoltage, load overvoltage, the load frequency is out of range, over temperature, overcurrent of external devices
(such as solenoid valve).

After-sales Service Provided
Video technical support
Applicable Industries
Hotels;Garment Shops;Building Material Shops;Machinery Repair Shops;Manufacturing Plant;Food & Beverage Factory;Farms;Restaurant;Home Use;Retail;Food Shop;Printing Shops;Construction works;Energy & Mining;Food & Beverage Shops;Other;Advertising Company
Brand Name
ultrasonic sealing
Condition
New
Dimensions
390/242/170cm
Frequency
20K
Key Selling Points
Good material and long lifetime
Machinery Test Report
Provided
Marketing Type
New Product 2021
Place of Origin
Beijing;China
Power (kW)
20K
Usage
390/242/170cm
Video outgoing-inspection
Provided
Voltage
AC198V-242V 50Hz/60Hz
Warranty
1 Year
Weight (KG)
7.2 KG
Welding Area
adjustable
Tags: Portable Mini Hand Held Portable Ultrasonic Spot Welder Handheld Manual Ultrasonic Plastic Welding Machine